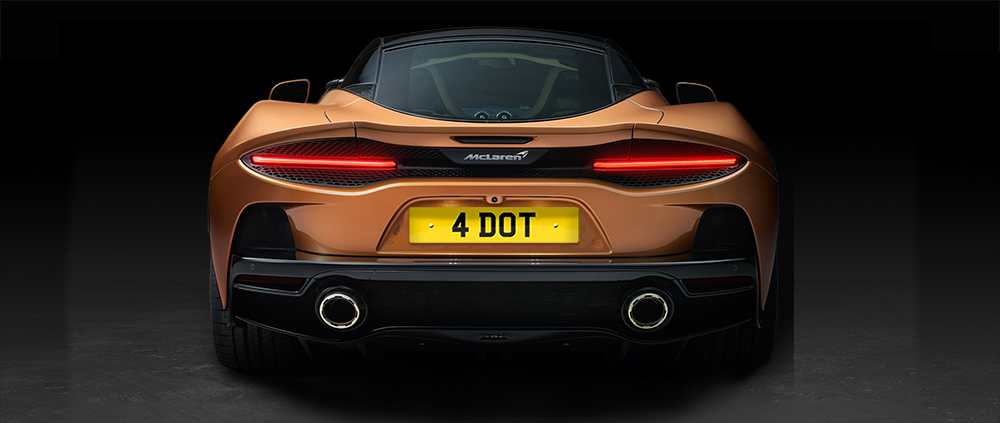 Fourdot have had the privilege to work with McLaren Automotive in the creation of our custom number plate range. We have supplied number plates for McLaren customers and for McLaren Showrooms from Ascot and London in the UK, all the way to Tokyo, Japan! We started creating shaped number plates for the McLaren Sports Series which proved a great success so we soon moved on to designing custom number plates for other Mclaren models. We have shaped number plates for the McLaren 12C all the way up to the Artura.
Almost all McLaren shaped number plates in our library come with the option to have a shaped and bent front plate. The beautiful contoured McLaren Supercar range requires a special mix of shaping and bending of our number plates to continue the lines of the car flowing into the plate. Some number plates are not present on our website such as the McLaren Senna which is a custom build so please call or email if you cannot find what you need on the website. You will find all other McLaren shaped number plates on our online configurator, where you can customise your number plates to suit your vehicle.
We can custom design plates for your McLaren, if you need some help just give us a call or drop us an email. All our number plates come gift boxed which you can check out at the bottom of this page.
Mclaren NUMBER PLATE LIBRARY
If your car is not featured below, we are always updating our library and need cars to scan in order to create our unique shapes. Send us an email with your car details and we will be in touch.


This rear plate is also compatible with the MP4-12C, 650S Coupe (2014 – current) and 650S Spider (2014 – current).


These plates are also compatible with the 570S (2016 – current), 570GT (2016 – current) and 570C (2016 – current).


These plates are also compatible with the 720S Coupe (2016 – current)
Have questions? Call us on 020 8387 1515
SIGNATURE
NUMBER PLATE RANGE
Shaped to fit the curves of your car
Smallest legal UK number plates
CLASSIC
NUMBER PLATE RANGE
Universal shape to fit all cars
What's included in the box?
Opening your number plates should be just as special as putting them on your car. To see exactly what you receive in the package take a look at the image below.
Have a question? Call us on 020 8387 1515